As outside temperatures increase, so does the temptation to take out the grill to enjoy summer barbecue with family and friends. While barbecued food can be delicious, without proper safety precautions, grilling can cause fires.
What are the Most Recent Statistics for Grill Fires in U.S.?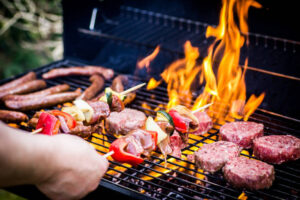 Here are some statistics about grill fires from the National Fire Protection Association (NFPA), a great resource for information about fire safety:
Seven out of every ten adults in the United States have a grill or smoker. A lot of people grilling means an increased risk of fires.
From 2017 to 2021, there was an average of 11,421 home fires per year that involved grills, hibachis, or barbecues.
From 2017 to 2021, approximately 22,155 patients per year went to emergency rooms because of injuries involving grills.
Gas grills were involved in an average of 9,079 home fires per year between 2017 and 2021.
Charcoal and other solid-fueled grills were involved in 1,440 home fires per year.
How Can You Best Protect You and Others While Grilling?
Here are some safety tips for summer grilling:
Propane, wood and charcoal grills should only be used outdoors.
Place your grill away from your home, deck railings, and other wood structures, and not under leaves or overhanging branches.
Ensure that the grill is stable and on a flat and level surface.
Before the first summer barbecue, check your grill for rust and rusty parts.
If you have a gas grill, check for leaks and breaks. According to the NFPA, 9% of gas grill structure fires and 15% of outside gas grill fires were caused by leaks or breaks annually.
Always clean your grill after use. Remove grease and fat buildup from the grill and from the tray underneath the grill.
Have a fire extinguisher nearby.
Do not turn on the gas while the grill lid is still closed.
Do not overload your grill with food when grilling.
Never leave the grill unattended while in use.
Keep children and pets away from the grill. According to the NFPA, children under five years old accounted for an average of 2,820 (46%) of contact-type burns per year. Contact-type burns are burns that occur when someone bumped into, touched, or fell on the grill, grill part, or hot coals.
Even when precautions are taken, defective products and negligence can still result in fires and injuries. SUGARMAN has a team of dedicated personal injury attorneys who represent those who have been injured by defective products or the negligence of others. If you have been injured and wish to speak to one of our attorneys regarding potential liability, please call us at (617) 542-1000 or email us at info@sugarman.com.