Stacey L. Pietrowicz
Consistently attaining outstanding results for clients, both through settlement and at trial.
31 St. James Ave.
10th Floor
Boston, MA 02116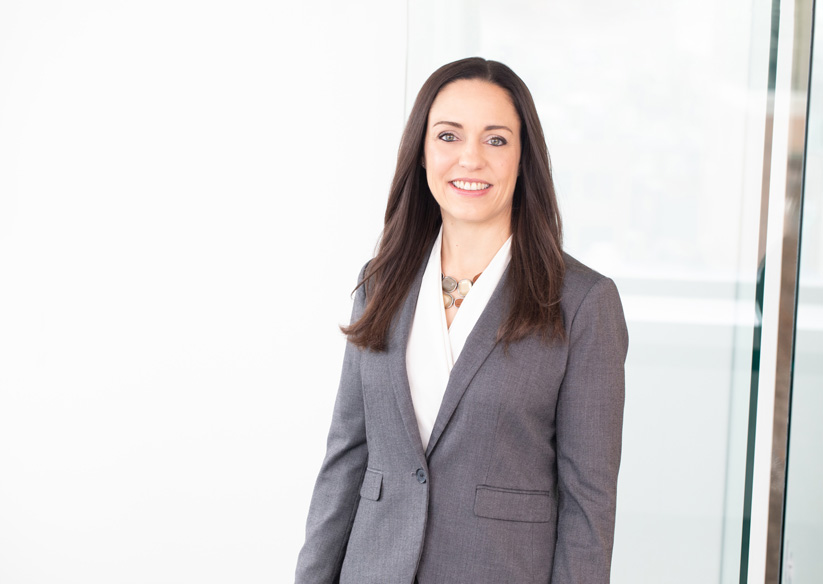 Biography
Stacey Pietrowicz is known for her work ethic, tenacity, and analytical mind, which combine to achieve successful outcomes for SUGARMAN'S clients, both through settlement and at trial. For 15 years, Stacey has worked in all aspects of the firm's practice, focusing on defective products, premises liability, medical malpractice, and other complex personal injury matters. Stacey brings her meticulous attention to detail to every type of case, consistently attaining outstanding results for her clients and routinely handling some of the firm's most sophisticated cases. She has been recognized in Massachusetts Super Lawyers every year since 2013 and was named to Top Women of Law by Massachusetts Lawyers Weekly in 2019.
In addition to her legal practice, Stacey has represented clients pro bono through the Women's Bar Foundation's Elder Law Project and Family Law Project. Stacey is active in local bar organizations, and regularly participates in events and programs for law students. She currently serves on the University of Rhode Island College of Arts and Sciences Advisory Board, and mentors students planning to attend law school. Stacey's writing has been published in MCLE's Massachusetts Tort Law Manual and the MBA Massachusetts Lawyers Journal Section Review.
Stacey joined SUGARMAN as an associate in 2008 right after receiving her law degree from Boston University School of Law, and became a principal of the firm in 2016. She has proudly dedicated her entire career to representing injured people and their families.
Significant Cases
Surgeon's improper technique results in patient's paralysis
Settlement for 35-year-old man and his child following surgeon's failure to use proper technique during thoracic spine surgery, resulting in the patient's being paralyzed from the waist down. The surgery took place at a prominent Boston hospital. The case settled following extensive discovery, and just before the depositions of the intraoperative neuromonitoring personnel, whose notes contradicted the surgeon's timeline of the events that led to the patient's injuries.
Doctor fails to establish airway following patient's allergic reaction
Recovery for the family of a 21 year-old man who died at a Boston-area hospital when an Emergency Department physician failed to establish an airway after the patient had a severe allergic reaction resulting in anaphylactic shock. The physician and others unsuccessfully attempted intubation multiple times but delayed placing a surgical airway, which would have prevented the patient's death. Following extensive discovery over several years, the defendant resolved the case a short time before trial.
Failure to maintain equipment - Power plant accident causes worker's injuries
Settlement against power plant and safety contractor for twenty-six-year-old boilermaker apprentice who was severely injured when he was violently sucked into a boiler drum which had not been properly de-energized for contractor work during an annual shutdown.
Hospital's electronic medical records reveal physicians aware of patient's condition
Recovery for the family of a 47 year-old man who died from pulmonary emboli following hip replacement surgery at a northeastern Massachusetts hospital. The patient's family brought suit against multiple defendants responsible for the patient's care during his recovery from surgery, including a nurse who failed to properly administer one of his medications. The case settled following extensive discovery, including multiple depositions of medical personnel who did not examine the patient, but were noted in audit logs to have accessed the patient's electronic medical records shortly before his death and thus were aware of his condition.
Wrongful death and serious injuries in Jamaicaway drunk driving crash
Pre-trial settlement on behalf of family of a woman killed in a drunk driving accident as well as on behalf of two others who suffered serious injuries in the same crash. The drunk driver became intoxicated at a Boston bar and was attempting to drop off her passengers when she crossed a double yellow line on the Jamaicaway and struck another vehicle head on. The drunk driver's blood alcohol level was later found to be almost three times the legal limit.
Wrongful death following failure to report lung mass
Pre-trial settlement of medical malpractice case for widow against radiologist and his medical practice. The client's fifty-seven year-old husband had undergone an abdominal CT scan relative to gastrointestinal issues. The CT scan incidentally revealed a suspicious mass in the patient's lung which was missed by the radiologist and never reported to the patient until it was found on a subsequent scan, resulting in a delay in diagnosis of lung cancer for nearly a year and a half. He underwent a resection, but the cancer returned months later. The patient was subsequently diagnosed with metastatic lung cancer and died the following year.
Education
J.D., Concentration in Litigation and Dispute Resolution, Boston University School of Law, 2008
B.A., University of Rhode Island, 2002 magna cum laude
Bar Admission
Massachusetts, 2008
United States District Court, District of Massachusetts, 2011
U.S. Court of Appeals (First Circuit), 2018
Affiliations
Massachusetts Academy of Trial Attorneys

Appointee, Board of Governors, 2019-2022

Massachusetts Bar Association

Appointee, Civil Litigation Section Council, 2013-2016

American Association for Justice
Women's Bar Association
Boston Bar Association
"Massachusetts Super Lawyers", Law and Politics, 2013-2023
Boston Magazine, "Top Lawyers – Plaintiff Medical Malpractice", 2023
"Top Women of Law", Massachusetts Lawyers Weekly, 2019
"Massachusetts Super Lawyers, Rising Stars", Law and Politics, 2011-2012
Elected to Phi Beta Kappa, University of Rhode Island, 2002
Knox vs. Schechtl Maschinenbau GmbH, et. al. 1:17-cv-11144-GAO (2019)
How SUGARMAN Can Help You.
1

We will listen carefully to you.

2

We will advise you regarding your potential case and the relevant law.

3

We will investigate for you and bring legal proceedings if appropriate.
SUGARMAN lawyers know that the damage done to lives by injury can be profound, yet often difficult to quantify or describe. And those effects last a lifetime. Our personal injury lawyers have the experience and resources to make a powerful case by developing the evidence and using expert consultation and testimony in order to prove your claim at trial. Just as important, we represent the injured and their families with special regard for the social, mental and emotional issues they face.