David P. McCormack
Bringing a focused and analytical approach to some of the firm's most complex cases.
31 St. James Ave.
10th Floor
Boston, MA 02116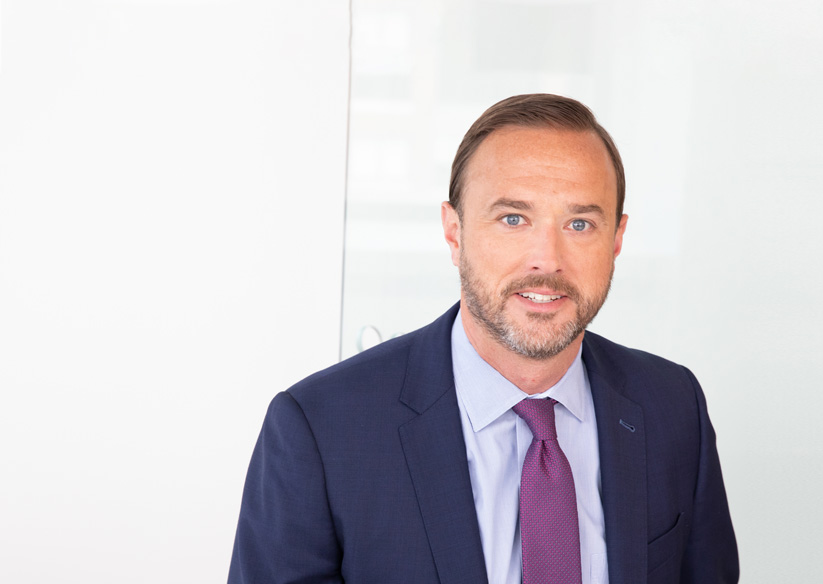 Biography
While spending many of his formative years focusing on product liability cases, David McCormack fostered his unique approach to developing cases from the moment of the first client contact to the time of trial. Through jury awards, arbitrations and settlements, David has regularly obtained significant results for his clients over the past two decades, including the largest reported plaintiff's personal injury settlement or verdict in Massachusetts in 2022, and a $30.55 million verdict in 2019 with his partner Ben Zimmermann, which is among the largest medical malpractice verdicts in Massachusetts history. David also led the SUGARMAN team responsible for the second largest personal injury settlement reported in Massachusetts in 2021 and obtained the firm's largest jury verdict that year. Recognized for his commitment to his clients and intensity, David has consistently been selected by his peers for inclusion in the Massachusetts Super Lawyers.
Although his focus remains on cases involving defective products, medical malpractice, and other complex personal injury claims, David litigates cases outside of the firm's core practice. He has represented clients in cases as diverse as arbitration proceedings relating to corporate stock manipulation, a breach of contract case involving a world-renowned band, and complex loss of business income cases. David's legal writings have been published in Trial magazine and the Massachusetts Academy of Trial Attorneys Journal and he has frequently been invited to serve as a speaker on panels discussing personal injury law.
David joined SUGARMAN as an associate after graduating law school in 2003 and became a principal of the firm in 2011. He is proud to have spent his entire 20-year career in the collaborative and client-focused environment at SUGARMAN.
Currently, David is leading the SUGARMAN teams litigating claims involving defective 3M Dual-Ended Combat Earplugs used by the military and claims for veterans and their families harmed by exposure to the contaminated water at Camp Lejeune.
Significant Cases
Pre-trial settlement for young man suffering catastrophic injuries after highway barrier failure
In the largest reported plaintiff's personal injury settlement or verdict of 2022, SUGARMAN Principals Ben Zimmermann and David McCormack obtained a recovery on the eve of trial for a 26-year-old whose vehicle was struck by a tractor-trailer that hit and tipped over a temporary barrier dividing lanes of traffic in a construction zone on a highway in Central Massachusetts. Through years of litigation in federal court, SUGARMAN was able to demonstrate that the general contractor and engineering firm for the project selected a light-weight steel barrier that did not meet the project's specifications and that the manufacturer of the barrier withheld testing and misrepresented the barrier's characteristics. Compounding these errors, the general contractor failed to install the barriers properly and the engineering firm failed to provide instructions regarding how much room was needed on either side of the barrier to prevent intrusion into opposing lanes of travel. SUGARMAN's experts demonstrated that the tractor-trailer was traveling at a low rate of speed with a small angle of impact such that a properly installed steel barrier (with several feet of room on either side) or an unpinned concrete barrier would have contained and re-directed the tractor-trailer and prevented it from entering the opposing lane of travel and striking the plaintiff's car. The plaintiff was a healthy 23-year-old college student at the time of the collision. He suffered multiple fractures and injuries to his internal organs, ultimately rendering him paraplegic with an above-the-knee amputation of the left leg.
Failure to review ultrasound leads to stroke
In a medical malpractice case, SUGARMAN attorneys obtained a pre-discovery settlement on behalf of a patient who was admitted to a Worcester-area hospital with classic symptoms of an impending stroke. The emergency room physician failed to review the results of the patient's carotid artery ultrasound, which showed severe blockage, and discharged the patient. The patient unfortunately suffered a massive stroke two days later.
Hospice company overmedicates patient for 5 years
A week before trial was scheduled to begin, SUGARMAN principals David McCormack and Benjamin Zimmermann reached a significant settlement for their client and her husband in a case involving negligent hospice care over the course of many years. SUGARMAN's client was an at-home hospice patient of the defendants for over 5 years and had been prescribed excessive and increasing amounts of narcotic pain medications to the point where she was unable to perform basic tasks. After not receiving answers to their concerns about the client's deteriorating condition, her family brought her to a local hospital, where medical providers immediately began weaning her off all the medications. The client's condition improved almost immediately. Through discovery and motion practice, SUGARMAN uncovered the hospice company's employee bonus program which incentivized employees to keep patients in hospice care and to avoid patients from being seen at hospitals or by outside providers. During the case, SUGARMAN also defeated the defendants' motion seeking to dismiss the case on various legal grounds -- a Superior Court judge found that all of the client's claims were legally and factually supported. The settlement was the second largest personal injury settlement reported in Massachusetts for 2021.
Traumatic brain injury and eventual death following excavator accident
Settlement for the daughter of a construction worker who was struck by an excavator's boom on a large development project in Everett. The excavator operator knew that the worker was in the area, but failed to look and make sure that the worker was a safe distance away before the operator moved the boom and violently struck him. The worker suffered catastrophic injuries that eventually caused his death 3 months later. In addition to a host of safety violations and unsafe practices, SUGARMAN attorneys were able to establish that the excavator operator had been previously fired for unsafe operation by the same company that later hired him to work on the development project. The case resolved shortly before trial.
Verdict in labor and delivery medical malpractice case
Following a two-week trial in Suffolk County Superior Court in Boston, SUGARMAN Principals Benjamin Zimmermann and David McCormack obtained a $30.55 million jury verdict on behalf of a child who suffered permanent and catastrophic brain injuries during his mother's labor and delivery at a Boston hospital. The jury agreed that the nurse responsible for monitoring the baby's heart rate and well-being during labor had failed to ensure that the baby was responding appropriately and that the nurse's failure to comply with the standard of care resulted in the baby's severe oxygen deprivation going undetected. The jury awarded damages for both the young boy and his parents.
Jury verdict in premises liability case
In one of the first civil trials following the lifting of the COVID-19 court closures, SUGARMAN partner David McCormack obtained a jury verdict for a client who sustained a severe femur fracture after slipping on ice at the corporate defendant's property. For several days following a snowstorm, the defendant and its employees failed to inspect the property, a busy gas station and convenience store in Lowell, and failed to find and treat the ice that caused the plaintiff to slip and fall. The jury, sitting for Middlesex Superior Court in Lowell, returned a verdict in favor of SUGARMAN's client after just 3 hours of deliberations.
Craneway collapse at Fore River Shipyard
Settlement of wrongful death lawsuit reached for the four young children of a construction worker who was killed when a massive steel craneway in Quincy collapsed. The general contractor failed to develop an engineering or demolition plan for the dismantling of the craneway and made cuts that left a portion of it a free-standing structure without securing it or warning any of the workers at the site of the danger posed by the free-standing structure.
Education
J.D., Boston University, 2003
B.A., Providence College, 2000
Bar Admission
Massachusetts, 2003
United States District Court, Massachusetts, 2004
Affiliations
Massachusetts Academy of Trial Attorneys
Massachusetts Bar Association
American Association for Justice
Boston Bar Association
Essex County Bar Association
Boston Magazine, "Top Lawyers – Plaintiff Medical Malpractice", 2022
"The Best Lawyers of America", Personal Injury Litigation – Plaintiffs, 2021-2024
"Massachusetts Super Lawyers", Law and Politics, 2013-2022
"Massachusetts Super Lawyers, Rising Stars", Law and Politics, 2008-2012
Panelist: "Elder Law Seminar", Massachusetts Continuing Legal Education, February 15, 2017
Panelist: "Premises Liability: Strategies and Recent Developments", Boston Bar Association, March 6, 2019
Panelist: "Brave New World in Trucking Litigation", Exigent Consulting, July 28, 2020
Kirkwood-Boulter, et al. v. Massachusetts General Hospital, et al., 35 Mass. L. Rptr. 38 (2018)
Bowers v. P. Wile's, Inc., 475 Mass. 34 (2016)
Hughes v. Tenet Metrowest Healthcare, et al., 2006-J-0579
How SUGARMAN Can Help You.
1

We will listen carefully to you.

2

We will advise you regarding your potential case and the relevant law.

3

We will investigate for you and bring legal proceedings if appropriate.
SUGARMAN lawyers know that the damage done to lives by injury can be profound, yet often difficult to quantify or describe. And those effects last a lifetime. Our personal injury lawyers have the experience and resources to make a powerful case by developing the evidence and using expert consultation and testimony in order to prove your claim at trial. Just as important, we represent the injured and their families with special regard for the social, mental and emotional issues they face.