Marianne C. LeBlanc
Achieving record-setting personal injury verdicts in Massachusetts' courts for over two decades.
Prudential Tower
800 Boylston Street, 30th Floor
Boston, MA 02199-8001
Biography
Marianne LeBlanc is a trial attorney with a proven record of success in the courtroom and over two decades of experience in representing injured clients. With record-setting verdicts in Massachusetts, Marianne's advocacy skills draw on her commitment to making a difference both for her clients and the community at large. Marianne concentrates in all aspects of serious personal injury litigation, including liquor liability, premises liability, medical malpractice, and nursing home litigation. She has been named in "Best Lawyers in America" and has repeatedly been selected by her peers as one of the Top 100 Massachusetts Super Lawyers and one of the Top 50 Women New England Super Lawyers.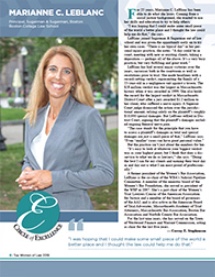 "I was hoping that I could make some small piece of the world a better place and I thought the law could help me do that."
In addition to her practice, Marianne has provided leadership to a wide variety of legal, civic and community organizations. In 2018 she was appointed by the Massachusetts Supreme Judicial Court to a four-year term on the Board of Bar Overseers (BBO) and in 2020 appointed to serve as Chair of the BBO. In addition, she currently serves as Massachusetts Governor to the American Association for Justice (AAJ), as Chair of the Norfolk Superior Court Bench-Bar Committee, as Vice-President of the Massachusetts Chapter of American Board of Trial Advocates (ABOTA), and on the Board and Executive Board of the Massachusetts Academy of Trial Attorneys. She is a past chair of the AAJ Women Trial Lawyers Caucus, and a past President of the Women's Bar Association of Massachusetts and the Women's Bar Foundation of Massachusetts. She is also a past Chair of the Civil Litigation Section of the Massachusetts Bar Association. Marianne frequently lectures on continuing legal education programs for Massachusetts Continuing Legal Education (MCLE), the Massachusetts Bar Association, and other professional associations.
Marianne joined SUGARMAN after receiving her law degree from Boston College Law School in 1993 and has been a principal of the firm since 1999. In addition to her leadership roles in the legal community, Marianne also serves on the Town of Westwood's Commission on Disability and served for several years as the Chairman of Westwood's Finance and Warrant Commission.
Significant Cases
Mismanagement of labor results in newborn's death
Settlement of medical malpractice case for parents of newborn who died several hours after her birth due to the mismanagement of her labor and delivery, resulting in severe anoxic injury.
Wrongful death in drunk driving incident
Settlement of wrongful death and personal injury cases arising out of drunk driving incident in which the front seat passenger was killed and the back seat passenger was severely injured. Settlement obtained against drunk driver and the tavern which overserved him in the two hours prior to the incident.
Wrongful death as a result of a car's detached tire
Settlement obtained for the family of a 26 year-old man who was killed when a tire detached from a truck on the highway, striking the man's windshield and causing fatal head injuries. The defendant truck driver was a student a trade school where the tire and wheel assembly had been improperly secured to the truck by the defendant truck driver and a fellow student due to the negligence and gross negligence of the school in failing to provide proper supervision and inspection of the work performed.
Failure To Diagnose Heart Attack
Settlement for family of a 47-year-old man who was improperly discharged from the hospital following failure to diagnose and treat evolving myocardial infarction. Second largest medical malpractice settlement reported in Massachusetts in 2017.
Defective consumer product – Child dies due to carbon monoxide poisoning
Settlement of wrongful death case on behalf of a family who lost a child as a result of carbon monoxide poisoning. SUGARMAN attorneys brought product liability and general negligence claims alleging improper installation of a residential boiler, and a defect in the boiler which allowed it to create and introduce high concentrations of carbon monoxide into the home during foreseeable weather events, such as heavy snow storms.
Liver transplants
Medical malpractice jury verdict and settlement against Boston-area transplant surgeon for wrongful deaths as a result of negligent liver transplant surgery.
Education
J.D., Boston College, 1993
B.A., Wellesley College, 1990
Bar Admission
Massachusetts, 1993
United States District Court, Massachusetts, 1994
Affiliations
Massachusetts Bar Association
Massachusetts Academy of Trial Attorneys
American Association for Justice (AAJ)
Women's Bar Association of Massachusetts
Boston Bar Association
Advocate, American Board of Trial Advocates
Fellow, American College of Trial Lawyers
Lawdragon's 500 Leading Plaintiff Consumer Lawyers, 2020-2021
"The Best Lawyers in America", 2005-2022
The Best Lawyers in America", Lawyer of the Year – Personal Injury Litigation, Plaintiff 2022
Boston College Law School 75th Anniversary Alumni Award, 2006
"Massachusetts Super Lawyers", Law and Politics, 2004-2021
"Top 100 Massachusetts Super Lawyers", 2004; 2008; 2010-2021
"Top 50 Women Massachusetts Super Lawyers", 2004-2021
"Top Women of Law Circle of Excellence Award", Massachusetts Lawyers Weekly, 2018
Distinguished Service Award, American Association for Justice, 2010
Wiedemann Wysocki Citation of Excellence, American Association for Justice, 2006; 2011
"40 Under 40 Award", Boston Business Journal, 2002
"Lawyers of the Year", Massachusetts Lawyers Weekly, 1999
"Best Lawyers in Boston", Boston Magazine, 2002
"100 Women of Distinction in Law and Public Service", The Massachusetts Association of Women Lawyers, 2005
How SUGARMAN Can Help You.
1

We will listen carefully to you.

2

We will advise you regarding your potential case and the relevant law.

3

We will investigate for you and bring legal proceedings if appropriate.
SUGARMAN lawyers know that the damage done to lives by injury can be profound, yet often difficult to quantify or describe. And those effects last a lifetime. Our personal injury lawyers have the experience and resources to make a powerful case by developing the evidence and using expert consultation and testimony in order to prove your claim at trial. Just as important, we represent the injured and their families with special regard for the social, mental and emotional issues they face.