Neil Sugarman
Aggressively representing clients in all types of cases has kept him at the forefront of Massachusetts personal injury law for over 50 years.
31 St. James Ave.
10th Floor
Boston, MA 02116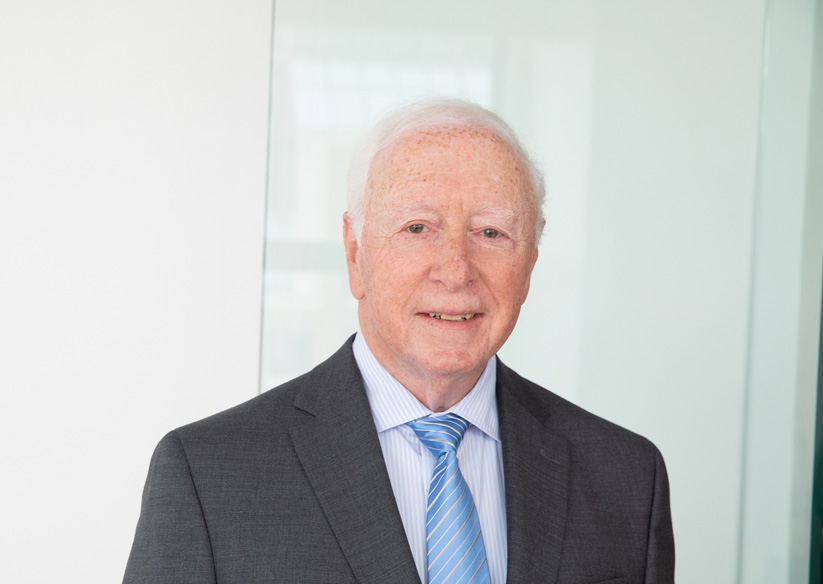 Biography
Neil Sugarman, Co-Founder and Principal, has successfully handled some of the most catastrophic explosion and fire accident cases in Massachusetts, many involving multiple victims. In addition, he has effectively argued leading appellate cases involving the expansion of personal injury law and consumer rights over the course of his 50+ years as an attorney. Neil is consistently recognized as one of the top litigators in Massachusetts and New England. His aggressive representation of his clients, and his obsessive attention to details is known in Massachusetts legal circles and beyond.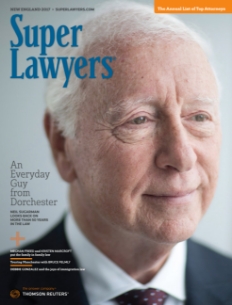 "People say a good trial lawyer is an actor, but I don't believe that. I think a good trial lawyer is very human and very professional at the same time."
His practice encompasses the areas of product liability, medical malpractice, construction site accidents, boating accidents, and complex personal injury lawsuits. His handling of cases of all types has kept him at the forefront of Massachusetts personal injury law.
A frequent lecturer and published writer, Neil has held executive and leadership positions with nearly every major legal association in Massachusetts. He served on the Advisory Board of the N. Neal Pike Institute on Law and Disability at Boston University School of Law and is a Fellow of the American College of Trial Lawyers. He was a past president of the Boston University School of Law Alumni Association, and a past president of the Massachusetts Academy of Trial Attorneys.
Prior to practicing law, Neil was a Captain in the U.S. Army Signal Corp and was awarded the Bronze Star Medal in the Vietnam conflict.
Significant Cases
Product liability - Defective aerial lift design
Settlement of product liability lawsuit for the family of a young boy who was catastrophically injured when an aerial lift truck he was riding in tipped over due to a defect in its design. The young boy suffered severe brain damage that left him paralyzed and unable to speak or care for himself.
Patient dies after hospital administers wrong medication
Pre-discovery settlement in wrongful death medical malpractice case for family of a 91 year old man who died in a Boston-area hospital as a result of the medical staff giving him a high dose of a psychiatric medication intended for another patient. Soon after filing suit, SUGARMAN's attorneys served a demand letter on the hospital's insurer for its failure to make a settlement offer when liability was clear. The case settled soon after.
Recovery under Massachusetts' liquor liability law for family of man killed in single car accident
Significant recovery for the widow and family of a man who died in a single car accident as a passenger in his friend's vehicle. The driver of the car was intoxicated at the time of the accident, and had been drinking at a bar near the accident site. SUGARMAN attorneys brought claims on behalf of the widow and family against the driver and the establishment, under Massachusetts' liquor liability law, alleging that the driver was negligent and that the bar had over-served him.
Sodium explosion causes tragic firefighter deaths
Settlement in a negligence and product liability case against a Newton chemical company for eleven firefighters injured as a result of a sodium explosion at the company.
Negligent removal of kneecap during surgery
Medical malpractice settlement against orthopedic surgeon and his practice group for the inappropriate surgical removal of a 50-year-old man's left kneecap in treatment of multi-compartmental knee arthritis.
Failure to report abnormal CT scan results
Pre-lawsuit settlement for family of a 73-year-old widow who died from metastatic lung cancer after cardiothoracic surgeon failed to inform her of a mass in her lung visible on CT Scan three years earlier.
Education
J.D., Boston University, 1965
B.S., Northeastern University, 1962
Bar Admission
Massachusetts, 1965
United States District Court, Massachusetts, 1967
United States Court of Appeals, First Circuit, 1976
Affiliations
Boston Bar Association
Middlesex Bar Association
Norfolk Bar Association
Massachusetts Bar Association
American Bar Association
American Association for Justice
Massachusetts Trial Lawyers Association
Massachusetts Academy of Trial Attorneys
Massachusetts Bar Foundation
American Board of Trial Advocates
International Academy of Trial Lawyers
International Society of Barristers
Boston University School of Law Silver Shingle Alumni Award, 1993
American ORT Federation Jurisprudence Award, 1993
Best Lawyers' Lawyer of the Year 2014, Personal Injury Litigation for Plaintiffs
"The Best Lawyers in America", 1987-2023
"The Best Lawyers in America", Lawyer of the Year, 2010
"Top 10 Massachusetts Super Lawyers", Law and Politics, 2004-2022
Boston Magazine's "The Top Lawyers of 2021"
Fellow, American College of Trial Lawyers
Fellow, International Society of Barristers
Fellow, International Academy of Trial Lawyers
Advocate, American Board of Trial Lawyers
Lawdragon 500 Leading Lawyers, 2007-2022
Inductee, Lawdragon Hall of Fame, 2022
Bronze Star Medal, U.S. Army, Republic of Vietnam, 1965-1967
ABA-TIPS Pursuit of Justice Award, 2009
American Board of Trial Advocates Robert Morris Award, 2015
Nna, et al. v. American Standard, Inc., 630 F. Supp. 2d 115 (2009)
Quincy Mutual Fire Ins. Co. v. Quisset Properties, Inc., 69 Mass. App. Ct. 147 (2007)
Gaeta v. National Fire Ins. Co., 410 Mass. 592 (1991)
Maillet v. ATF-Davidson Co., 407 Mass. 185 (1990)
Sabel v. Meade Johnson & Co., 737 F.Supp. 135 (D. Mass. 1990)
Colter v. Barber-Greene Co., 403 Mass. 50 (1988)
Downs v. Gulf & Western Mfg. Co., 677 F. Supp. 661 (D. Mass. 1987)
Mirageas v. Massachusetts Bay Transp. Auth., 391 Mass. 815 (1984)
Mark v. Obear & Sons, Inc., 313 F. Supp. 373 (D. Mass. 1970)
How SUGARMAN Can Help You.
1

We will listen carefully to you.

2

We will advise you regarding your potential case and the relevant law.

3

We will investigate for you and bring legal proceedings if appropriate.
SUGARMAN lawyers know that the damage done to lives by injury can be profound, yet often difficult to quantify or describe. And those effects last a lifetime. Our personal injury lawyers have the experience and resources to make a powerful case by developing the evidence and using expert consultation and testimony in order to prove your claim at trial. Just as important, we represent the injured and their families with special regard for the social, mental and emotional issues they face.