Neil Sugarman
Aggressively representing clients in all types of cases has kept him at the forefront of Massachusetts personal injury law for over 50 years.
Prudential Tower
800 Boylston Street, 30th Floor
Boston, MA 02199-8001
Biography
Neil Sugarman, Co-Founder and Principal, has successfully handled some of the most catastrophic explosion and fire accident cases in Massachusetts, many involving multiple victims. In addition, he has effectively argued leading appellate cases involving the expansion of personal injury law and consumer rights over the course of his 50+ years as an attorney. Neil is consistently recognized as one of the top litigators in Massachusetts and New England. His aggressive representation of his clients, and his obsessive attention to details is known in Massachusetts legal circles and beyond.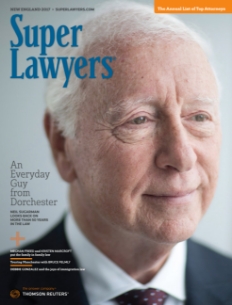 "People say a good trial lawyer is an actor, but I don't believe that. I think a good trial lawyer is very human and very professional at the same time."
His practice encompasses the areas of product liability, medical malpractice, construction site accidents, boating accidents, and complex personal injury lawsuits. His handling of cases of all types has kept him at the forefront of Massachusetts personal injury law.
A frequent lecturer and published writer, Neil has held executive and leadership positions with nearly every major legal association in Massachusetts. He served on the Advisory Board of the N. Neal Pike Institute on Law and Disability at Boston University School of Law and is a Fellow of the American College of Trial Lawyers. He was a past president of the Boston University School of Law Alumni Association, and a past president of the Massachusetts Academy of Trial Attorneys.
Prior to practicing law, Neil was a Captain in the U.S. Army Signal Corp and was awarded the Bronze Star Medal in the Vietnam conflict.
Significant Cases
Driver struck by a commercial truck
Settlement for married 50 year-old father of three who suffered a life-altering brain injury when his car was rear-ended and run over by a commercial truck.
Nursing home guest slips on ice leaving facility
Settlement for a middle-aged woman who slipped and fell on an ice patch at the entrance to the defendant's nursing home resulting in a rotator cuff tear requiring surgical repair, and back injuries. The client had been visiting her elderly father at the nursing home.
Severe injuries sustained by construction worker in fall on jobsite
Settlement in personal injury case for 39-year-old construction worker, who fell 15 feet to the ground in Norwell, Massachusetts while working on the roof of the defendant general contractor's property. The construction worker sustained bilateral wrist fractures requiring multiple surgeries, and facial lacerations.
Product liability – Defective aerial lift design
Settlement of product liability lawsuit for the family of a young boy who was catastrophically injured when an aerial lift truck he was riding in tipped over due to a defect in its design. The young boy suffered severe brain damage that left him paralyzed and unable to speak or care for himself.
Wrongful death and injury claims resulting from industrial explosion
Settlement against a Springfield company and a chemical manufacturer following a resin-powder explosion that caused the death of three foundry workers and seriously burned and maimed nine others. In reviewing tens-of-thousands of documents and conducting scores of depositions, SUGARMAN lawyers uncovered the defendant company's corporate orders to reduce and eliminate safety programs at the foundry in order to increase production and profits.
Sodium explosion causes tragic firefighter deaths
Settlement in a negligence and product liability case against a Newton chemical company for eleven firefighters injured as a result of a sodium explosion at the company.
Education
J.D., Boston University, 1965
B.S., Northeastern University, 1962
Bar Admission
Massachusetts, 1965
United States District Court, Massachusetts, 1967
United States Court of Appeals, First Circuit, 1976
Affiliations
Boston Bar Association
Middlesex Bar Association
Norfolk Bar Association
Massachusetts Bar Association
American Bar Association
American Association for Justice
Massachusetts Trial Lawyers Association
Massachusetts Academy of Trial Attorneys
Massachusetts Bar Foundation
American Board of Trial Advocates
International Academy of Trial Lawyers
International Society of Barristers
Boston University School of Law Silver Shingle Alumni Award, 1993
American ORT Federation Jurisprudence Award, 1993
Best Lawyers' Lawyer of the Year 2014, Personal Injury Litigation for Plaintiffs
"The Best Lawyers in America", 1987-2022
"The Best Lawyers in America", Lawyer of the Year, 2010
"Top 10 Massachusetts Super Lawyers", Law and Politics, 2004-2021
Boston Magazine's "The Top Lawyers of 2021"
Fellow, American College of Trial Lawyers
Fellow, International Society of Barristers
Fellow, International Academy of Trial Lawyers
Advocate, American Board of Trial Lawyers
Lawdragon 500 Leading Lawyers, 2006-2010
Bronze Star Medal, U.S. Army, Republic of Vietnam, 1965-1967
ABA-TIPS Pursuit of Justice Award, 2009
American Board of Trial Advocates Robert Morris Award, 2015
How SUGARMAN Can Help You.
1

We will listen carefully to you.

2

We will advise you regarding your potential case and the relevant law.

3

We will investigate for you and bring legal proceedings if appropriate.
SUGARMAN lawyers know that the damage done to lives by injury can be profound, yet often difficult to quantify or describe. And those effects last a lifetime. Our personal injury lawyers have the experience and resources to make a powerful case by developing the evidence and using expert consultation and testimony in order to prove your claim at trial. Just as important, we represent the injured and their families with special regard for the social, mental and emotional issues they face.