Electric scooters, commonly referred to as "e-scooters", are becoming popular across the U.S. They are easily accessible, marketed as innovative and environmentally friendly. E-scooters are meant to solve our "first mile, last mile problem" – city buses and subways can only get you so far. The three leading e-scooter companies are Bird, LimeBike, and Spin.
How does e-scooter rental work?
People who want to use an e-scooter download an app on their phone and sign up. Users must be 18 years old, with a credit card for payment, and proof of a state driver's license or permit. The app unlocks the e-scooter, and locks it again when the ride is over. Typically, each ride costs $1 to start and 15 cents for each additional minute, making it affordable for most people. The app finds a nearby e-scooter through GPS.

What are the safety concerns with e-scooter rentals?
It's easy to see why these e-scooters are popular. Unlock, ride anywhere, leave it anywhere, and go. However, e-scooters (which can travel up to 15 mph) can be very dangerous, especially when combined with congested city streets full of cars, trucks, pedestrians, and bicyclists. Not to mention, the e-scooters riders themselves face the same risks as bicyclists – being injured by a motor vehicle, cyclists, pedestrians, or other e-scooter riders.
These e-scooters are dockless, meaning there are no designated parking areas. At the end of a ride, users can park these e-scooters anywhere. This could present a tripping hazard for pedestrians and workers.
Although company guidelines advise users to safely park e-scooters out of pedestrian ways, there is no way to ensure compliance. Inevitably, e-scooters will be left in areas where people walk.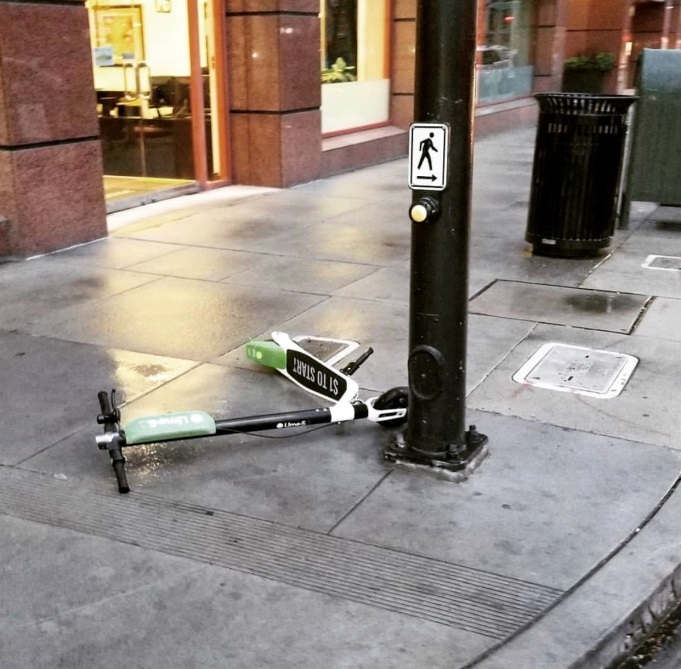 Although Massachusetts laws require scooter riders to wear a helmet, many ignore this law in favor of convenience. Wearing a helmet could prevent a serious head injury, yet many media images of these e-scooters show riders without helmets.
What happens if you are injured while using an e-scooter, or by one?
All three e-scooter companies require users to release the company of any liability prior to using an e-scooter, placing the entire burden on the rider.
Lime's "User Agreement" includes a hold harmless clause that reads:
"You expressly agree to indemnify, release and hold harmless Released Persons [collectively Lime and all of its owners, managers, affiliates, employees, agents, representatives, successors, and assigns] from all liability for any such property loss or damage, personal injury or loss of life, regardless of the cause, whether based upon breach of contract, breach of warranty, active or passive negligence or any other legal theory, in consideration for using any of the Services."
Bird's Agreement reads:
"In exchange for Rider being allowed to use Bird Services … Rider agrees to fully release, indemnify, and hold harmless Bird and all of its owners, managers, affiliates, employees, contractors, officers, directors, shareholders, agents, representatives, successors, assigns, and to the fullest extent permitted by law … from liability for all "Claims" arising out of or in any way related to Rider's use of the Bird Services … including, but not limited to, those Claims based on Released Persons' alleged negligence, breach of contract, and/or breach of express or implied warranty, except for Claims based on Released Persons' gross negligence or willful misconduct."
Spin's Agreement reads:
"User agrees to indemnify, defend, and hold Spin harmless from all losses, liabilities, damages, injuries, claims, demands, costs, attorneys' fees, and other expenses incurred by Spin arising from or related to User's use of a Spin Bike or any person permitted by User to use a Spin Bike … LIMITATION OF SPIN' LIABILITY. Except to the extent THAT ANY LOSS OR DAMAGE IS due SOLELY to Spin's Negligence: SPIN MAKES NO WARRANTY EXPRESS OR IMPLIED AS TO ANY MATTER WHATSOEVER INCLUDING, WITHOUT LIMITATION, THE CONDITION OF A SPIN BIKE, ITS MERCHANTABILITY OR FITNESS FOR A PARTICULAR PURPOSE. SPIN IS NOT LIABLE FOR ANY INDIRECT, SPECIAL OR CONSEQUENTIAL DAMAGES ARISING OUT OF USER'S USE OF A SPIN BIKE."
While it is unknown whether these clauses will effectively shield companies from liability in negligence cases nationwide, Massachusetts state law places some limits on indemnity and hold harmless clauses. A party cannot use a release to avoid liability for injuries caused by gross negligence or reckless conduct.
For assistance in situations involving liability release forms such as the ones above relating to incidents causes by e-scooters, contact us. SUGARMAN's personal injury attorneys have experience in motor vehicle cases of all types. Call us at 617-542-1000, email info@sugarman.com, or fill out a Contact Form.