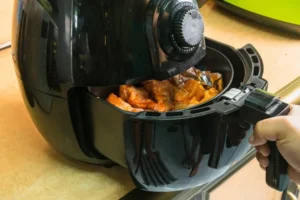 Nearly everyone has a weakness for French fries and chicken nuggets, but many avoid deep fried foods because of the negative health consequences. Enter the air fryer. Air fryers circulate convection heat through foods in a perforated basket, which makes the food brown and crispy on the outside and juicy and tender on the inside with minimal oil and mess. Needless to say, a healthier way to "fry" food became very popular. Over the past three years, the sale of air fryers has skyrocketed, and the cooking method has launched multiple recipe channels on social media. With most households now owning an air fryer, it is important to check the safety and quality of the product before (and sometimes after) you buy it.
According to the Consumer Product Safety Commission, on October 13, 2022, Newair recalled over 11,750 Magic Chef Air Fryers because of their potential to overheat and cause fires and burns to the users. The digital air fryer with model numbers MCAF56DB (black) and MCAF56DW (white) was placed on a fast track recall by the company, which is offering a refund to those who purchased the defective products as well as instructions on how to disable and dispose of the defective fryer. This recall comes only six months after Best Buy recalled over half a million Insignia Air Fryers and Air Fryer Ovens for similar overheating and fire hazards.
Air fryers cook at temperatures as high as a traditional oven, and safety precautions should be taken to avoid contact burns and other injuries. Place the product on a safe, flat countertop surface away from other items, and take care not to overfill the basket or leave it unattended.
When you or someone you love is impacted by a defective product, you should consult a Massachusetts personal injury lawyer regarding the potential liability of the manufacturer and retailer.
SUGARMAN has a team of dedicated personal injury attorneys who represent those who have been injured. If you have been hurt or impacted by a defective product and wish to speak to one of our attorneys regarding liability, please call us at 617-542-1000 or
e-mail info@sugarman.com.