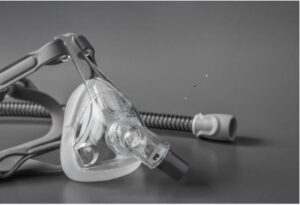 On September 6, 2022, the Food and Drug Administration alerted hospitals, patients, and medical device distributors that Philips Respironics is voluntarily recalling around 17 million CPAP and BiPAP machines due to reported issues of harmful interactions with other implanted devices. This voluntary recall comes three months after the Food and Drug Administration issued a Class I recall on various Philips Respironics's BiPAP and CPAP machines due to product failure, particularly with the insulation inside the device.
The devices under this recent recall include: DreamWisp, Wisp, Wisp Youth, and Amara View masks. These CPAP and BiPAP machines contain magnets that connect the mask components and hold the device in place. These magnets have been found to interact and cause movement of certain other implanted devices in the patient or people near the patient including pacemakers, aneurysm clips, implanted cardioverter defibrillators, ocular implants, insulin pumps and various neurostimulators like cochlear implants.
Presently, Philips has reported 14 serious injuries stemming from use of the recalled masks including pacemaker failure leadings to replacement, arrhythmia, irregular blood pressure, tachycardia, severe headaches, and other medical emergencies linked to the magnet's interference. The Food and Drug Administration has issued a Stop-Use Order on all masks contained under this recall and has provided resources for patients affected by the recalled devices on their website.
When you or someone you love is impacted by a medical device, a personal injury lawyer should be consulted regarding defective product law. SUGARMAN has a team of dedicated personal injury lawyers in Boston, MA who represent those who have been injured. If you have been hurt or impacted by a medical device and wish to speak to one of our attorneys regarding liability, please call (617) 542-1000 or email us at info@sugarman.com to connect with a SUGARMAN personal injury lawyer today.