On November 9, 2016, the FDA announced that Stryker Orthopaedics had issued a recall for certain models of its LFIT V40 Femoral Head.
Used by surgeons with various hip replacement systems, the LFIT V40 replaces the "ball" part of the hip joint. It is a metal (cobalt-chromium) implant designed to lock onto a femoral hip stem trunnion (or pivot) in a total hip replacement surgery.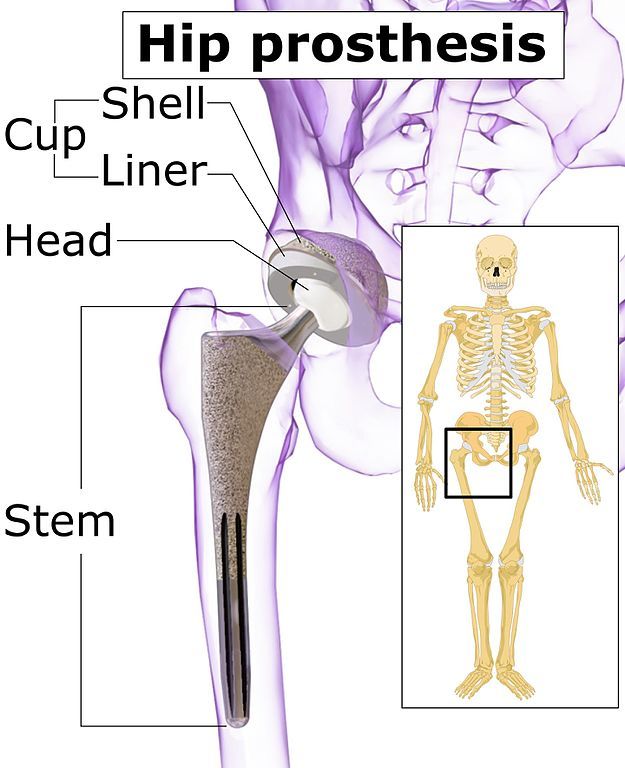 Image: Blausen Medical Communications CC-BY-SA-4.0.
This is not the first time that metal-on-metal hip implants have caused problems. We have previously written about Stryker'srecall of the Rejuvenate and ABG II hip implants, and DePuy recall of the ASR XL and ASR systems. (Both are metal-on-metal hip implant recalls.)
The FDA announcement cites "incidence of harm secondary to taper lock failure" as Stryker's reason for recall. Taper lock failure occurs when the trunnion wears away due to the metal-on-metal contact, causing dissociation from the femoral hip stem.
Patients with the LFIT V40 implant are experiencing corrosion, heavy metal poisoning, early hip failure, and other health problems. Inevitably, more surgery is the only option for recovery. All of these complications are found in other prior metal-on-metal hip products.
If you've had the Stryker LFIT V40 Femoral Head implanted, or even if you are unsure whether or not your hip replacement system is impacted by the recall, you should contact your surgeon as soon as possible.
Patients who have had this defective and recalled component implanted may have legal recourse. There are many LFIT V40 lawsuits pending in different districts, with 84 cases filed in Boston alone. SUGARMAN attorneys have successfully represented dozens of clients injured by similar metal-on-metal hip implants. Most recently our lawyers have helped patients obtain successful settlements in cases involving earlier recalls of the Stryker Rejuvenate Modular and ABG II hip replacement systems.
Please continue to follow our blog and website for further details and developments regarding the Stryker recall. If you have any questions regarding a Stryker or other metal-on-metal hip implant, please contact one of SUGARMAN's personal injury attorneys at 617-542-1000 or send us an email at info@sugarman.com.