Many people trust sunscreen to protect them from the sun. This includes the cumulative effects of sun exposure like skin cancer. However, Johnson & Johnson just recalled five sunscreens with a known carcinogen. They discovered low levels of benzene in the sunscreens. Benzene is known to cause certain blood cancers such as leukemia.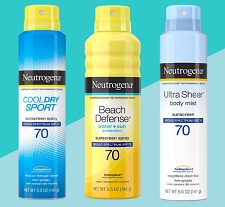 The recalled products are Neutrogena's aerosol sunscreens Beach Defense aerosol, Cool Dry Sport, Invisible Daily Defense, and Ultra Sheer. In addition, Aveeno Protect + Refresh aerosol sunscreen was recalled. Johnson & Johnson has stated they don't know how benzene got into their products. Benzene is not an ingredient in their sunscreens they claim. They said the levels of benzene were low, unlikely to be harmful. Nonetheless, people should stop using the recalled sunscreens.
Have you or someone you love been injured by a defective product? Consult a personal injury lawyer about the potential liability of the manufacturer and retailer. SUGARMAN has a team of dedicated personal injury attorneys who represent those who have been injured. If you have been hurt in an accident and wish to speak to one of our attorneys, please fill out a Contact Form, call us at (617) 542-1000 or e-mail info@sugarman.com.