Sugarman and Sugarman, P.C. has been recognized in the 2024 edition of Best Law Firms®, ranked by Best Lawyers®, regionally in three practice areas.
SUGARMAN has received the following rankings in the 2024 Best Law Firms®: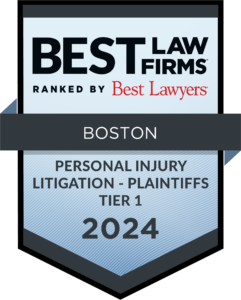 Regional Tier 1

Boston

Medical Malpractice Law – Plaintiffs
Personal Injury Litigation – Plaintiffs
Product Liability Litigation – Plaintiffs
"The firm is extremely honored to once again be ranked as one of the top firms in our practice areas. We feel this is a reflection of the dedication and hard work of our lawyers and our entire team, and our singular focus on achieving outstanding results for our clients," noted Managing Partner, Ben Zimmermann.
Firms included in the 2024 Best Law Firms® list are recognized for professional excellence with persistently impressive ratings from clients and peers. To be considered for this milestone achievement, at least one lawyer in the law firm must be recognized in the 2024 edition of The Best Lawyers in America®. Five attorneys at the firm, Marianne LeBlanc, David McCormack, Neil Sugarman, Paul Sugarman and Benjamin Zimmermann, have been consistently listed in The Best Lawyers in America.
Receiving a tier designation represents an elite status, integrity, and reputation that law firms earn among other leading firms and lawyers. The 2024 edition of Best Law Firms® includes rankings in 75 national practice areas and 127 metropolitan-based practice areas
About Best Law Firms®
Best Law Firms® is the most credible rankings of exceptional law firms, rooted in a rigorous, peer-to-peer, industry-driven evaluation. Achieving a tiered ranking in Best Law Firms signals a unique combination of quality law practice and breadth of legal expertise. Ranked firms, presented in three tiers, are recognized on a national and metro-based scale. The reputation earned over the past 14 years and a future-focused commitment to innovation provides legal professionals with an elevated stature, validation and confidence that comes from being part of, and working with, a Best Law Firms honored practice.