Hospital staffing is a critical patient safety concern. The Code of Federal Regulations (42 CFR 482.23(b)) requires all Medicare-Certified hospitals to have adequate licensed registered nurses and other personnel to provide nursing care to all patients as needed.
Precise data on the effect of staffing levels on patient outcomes is difficult because of the challenge of isolating staffing ratios from other variables, including hospital size, floor layout, teaching status, and patient condition. Despite this, hospitals and legislators across the country consider staffing levels a vital aspect of patient safety.
Current State Practices in the U.S.
According to the American Nurses Association, 14 states currently have government regulations regarding nurse staffing in hospitals.
In 1999, California became the first state to establish minimum nurse to patient ratios in all hospitals with different maximum patients per nurse depending upon the type of care, with intensive care units having the lowest ratio – 2 patients per nurse – and psychiatric units having the highest ratio – 6 patients per nurse.
Though not as broad as the California legislation, Massachusetts General Laws, Chapter 111 § 231 limits the number of patients that can be assigned to an intensive care unit nurse to 1 or 2 patients depending upon the stability of the patient. The stability of the patient is determined by hospital nursing and administrative staff based on an approved formula.
Massachusetts Nurse Staffing
While there is discussion of staffing shortages and a nursing crisis in Massachusetts, the Massachusetts Board of Registration in Nursing records indicate a slight upward trend in the number of registered nurses in the state in recent years, with 130,048 active Registered Nurses in the Commonwealth in 2018. These nurses work with the 35,161 professionally active physicians in the state.
SUGARMAN has compared this staffing data with the state's resident population for the period 1995–2016 (the most recent period for which both staffing data and US Census population estimates were available). Over that time, it has varied from a high of 53 residents per nurse to a current low of 46. (Lower numbers seem to indicate greater market supply of nurses.) Whether this correlates to patient outcomes is unclear; for example, the data available doesn't tell us how many registered nurses work in hospitals vs. physicians' offices. It is, nonetheless, an interesting trend to consider.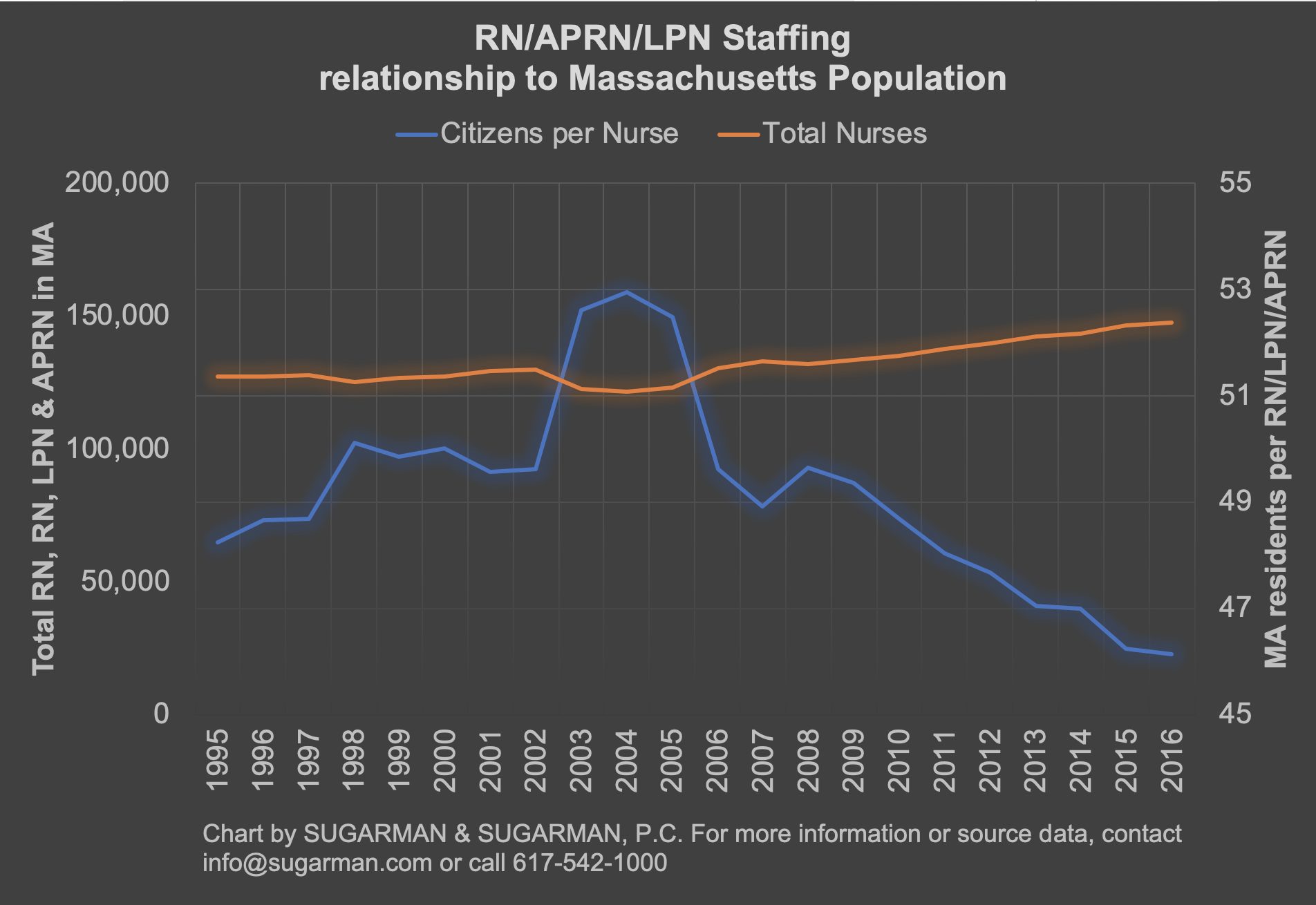 If you or someone you know was injured during a hospital admission, SUGARMAN's dedicated team of personal injury attorneys may be able to help. Please fill out a Contact Form, call us at (617)-542-1000, or email info@sugarman.com.
Detailed data is available to media by request. Sources SUGARMAN used include:
https://www.mass.gov/service-d…
https://www.census.gov/data/ta…
https://www.census.gov/library…