Kraft Heinz recently announced a voluntary recall of approximately 5,760 cases of one of its beverages, Capri Sun Wild Cherry Flavored Juice Drink Blend.
Kraft Heinz uses a diluted cleaning solution on food processing equipment and this cleaning solution was mistakenly added to the production of Capri Sun Wild Cherry Juice Drink with the "Best by Used By" date of June 24, 2023. Once consumers began complaining of the taste, the problem was discovered by Kraft Heinz and the voluntary recall was issued. This recall only affects Capri Sun Wild Cherry Flavored Juice Drink Blend beverages made and sold in the United States.
Efforts by the company are now being made to remove the tainted products from shelves and consumers are advised not to drink the listed products – consumers should return those beverages to stores where purchased.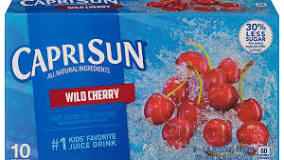 For more information, consumers can contact Kraft Heinz at 1-800-280-8252 to receive reimbursement if the product purchased is part of the recall.