With the holiday season fast approaching, traveling in and out of Massachusetts can pose dangerous risks for drivers. Worsening road conditions brought on by snow, ice, and freezing rain contribute to half a million motor vehicle crashes each year. To best prepare yourself for driving this season, the following tips are designed to help keep you safe and avoid risks while driving.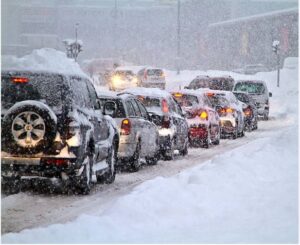 Tips for Driving in the Snow
Assess whether it is safe to go out or whether you should stay home.
Make sure your vehicle is completely clear of snow and ice which would contribute to decreased field of vision.
Drive slowly to better account for decreased traction when driving on snow or ice.
Understand how your vehicle accelerates or slows to avoid loss of traction while in motion.
Increase your trailing distance to any vehicles in front of you.
Ensure your vehicle's headlights are on while you are driving.
Avoid using cruise control on difficult road conditions like ice or snow.
Avoid accelerating up and down hills too quickly, which will lead to tire spin and loss of traction.
Tips for Long-Distance Winter Trips
Check the weather along your route to understand the conditions you will face. When possible, delay your long-distance trip if risky conditions are expected.
Ensure your vehicle is ready to drive long distances – check for adequate tire treads and tire pressure.
Always keep at least half a tank of fuel in your vehicle if you expect to stop over along your trip.
Make sure you have alternative trip guidance systems in place in case you find yourself lost or stranded during your trip.
SUGARMAN has a team of dedicated personal injury attorneys who represent those who have been injured. If you have been injured and wish to speak to one of our attorneys regarding liability, please call us at 617-542-1000 or
e-mail info@sugarman.com.