3M Combat Earplugs Used by the Military
Information for U.S. service and military members who have suffered hearing loss or tinnitus as a result of using 3M Dual-Ended Combat Arms Earplugs™
Building on our experience investigating and litigating cases for people harmed by defective products, SUGARMAN has formed a team to represent U.S. service and military members who have suffered hearing loss and tinnitus as a result of using the 3M Dual-EndedCombat Arms Earplugs™. This team is led by SUGARMAN attorney David McCormack.
3M's Dual-Ended Combat Arms Earplugs™ were designed and manufactured for military use and used by thousands, if not millions, of servicemen and women from 2003-2015. These defective earplugs (also known as the 3M CAEv2) were used by all branches of the armed forces, including the Army, Navy, Marines, Air Force, National Guard, and Coast Guard. 3M's predecessor, Aearo Technologies, Inc., originally sold the combat earplugs to the military before 3M purchased the company in 2005 and continued to sell the defective earplugs to the military.
The Defect:
Put simply – the 3M Dual-Ended Combat Arms Earplugs™ never worked as claimed. The earplugs had two ends – a closed end to supposedly block out all sound and an "open" end that supposedly blocked out harmful impulse noises while allowing soldiers to hear conversations and orders around them.
Unbeknownst to service members, a design defect caused the combat earplugs to loosen while being worn. This allowed for harmful impulse sounds to enter soldiers' ear canals and cause hearing loss, tinnitus, and other hearing-related injuries — the very injuries the combat earplugs were supposedly designed to prevent.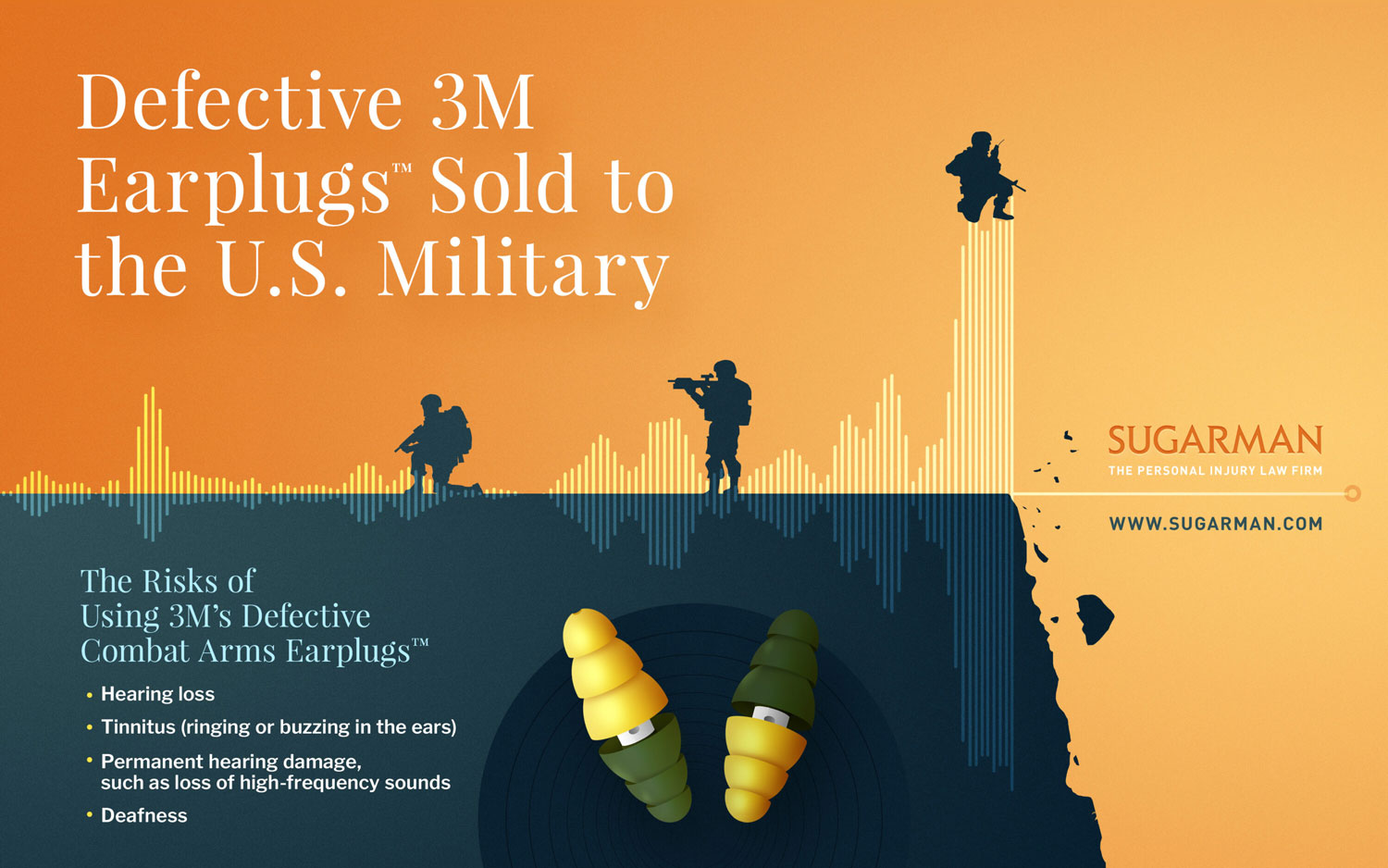 3M discontinued the Dual-Ended Combat Arms Earplugs™ in 2015. After a whistleblower lawsuit, the U.S. Department of Justice and 3M reached a $9.1 million settlement in July, 2018. In a press release announcing the settlement, the Department of Justice stated that 3M Company faced allegations that it and Aearo Technologies, Inc. knew that the Dual-Ended Combat Arms Earplugs™ were "too short for proper insertion into users' ears and that the earplugs could loosen imperceptibly."
It was also alleged that both 3M and Aearo Technologies, Inc. failed to disclose the defects to the military and that both companies knew that testing of the combat earplugs had been falsified.
What Are the Risks of Using 3M's Defective Combat Arms Earplugs™?
Service members have reported symptoms like these after using 3M's defective Combat Arms Earplugs:
Hearing loss
Tinnitus (ringing or buzzing in the ears)
Permanent hearing damage, such as loss of high-frequency sounds
Need for hearing aids
Deafness
What are my options?
Military servicemen and women who frequently used the 3M Dual-Ended Combat Arms Earplugs™, served during 2003–2015 and suffered hearing loss during their enlistment potentially may be able to file a lawsuit against 3M and Aearo due to the defective combat earplugs.
Military members may have a valid claim whether or not they served overseas or saw actual combat – the 3M Dual-Ended Combat Arms Earplugs™ were standard issue for many service members and were used at basic training and for training exercises.
SUGARMAN Is Ready to Help You
If you or a loved one was supplied 3M Dual-Ended Combat Arms Earplugs™ while in the military and have been diagnosed with or believe you have hearing loss or tinnitus, SUGARMAN's 3M team may be able to help.
Unlike most firms, you will actually speak with an attorney when you call to discuss your case. If you think we might be able to help, please call us at 617-542-1000 or directly contact David McCormack (dmccormack@sugarman.com).